First of all, if there's a correlation between my last post named "Brutal truth about cryptocurrencies" and the market crash on the same day, then I apologise.
This wasn't my plan. 😂
On Tuesday, the total market cap lost over 30 billion dollars in a matter of hours; Bitcoin dropped 15%, Ethereum over 20%, EOS 30% and many others with them.
Unfortunately, I can't provide you with any right answer to why this happened.
However, I can share some interesting bits of the bloodbath.
A lot of people got hurt
$600M worth of positions got liquidated in Bitmex because of over-leveraged longs. $300M of it was in just one hour.
The last time we had so many liquidations within a day was 2018 Nov, when Bitcoin fell from 6k to 3k.
Source: https://sk3w.co
Messari was quick to crunch some numbers
Flash crash (?) on Binance
The price of Bitcoin touched $1800 on Binance for a second.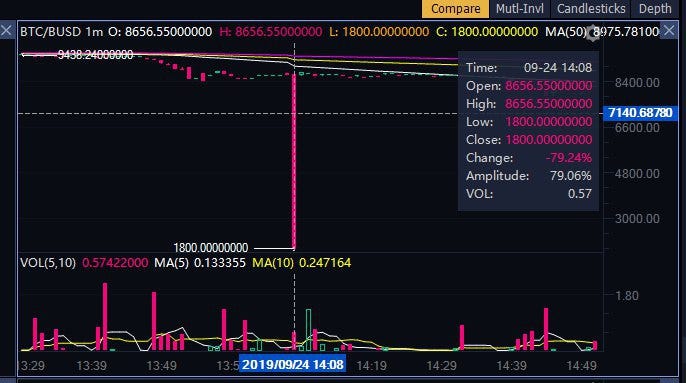 There's no doubt that this market demands firm conviction from the investors. If you don't have a strong confidence, you will be shaken out by the volatility.
For some, it was a nightmare (who held leveraged longs). For others, it was a great buying opportunity.
Su Zhu, CEO of Three Arrows Capital, concludes it well:
- Edgar